A fun fact about me is that my entire time growing up, I was convinced that I would be a religious sister, and that my life today would look much different th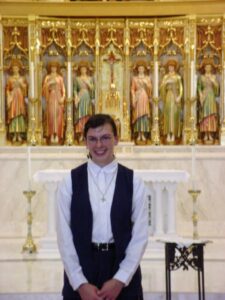 an it does now.
On August 31st 2012, When I was 18, I entered as a postulant with the Dominican Sisters of Mary Mother of the Eucharist in Ann Arbor, MI. I absolutely was convinced that God's plan for me was teaching, preaching, and living life with the Sisters. I didn't ever anticipating leaving, returning to the world, and eventually getting married.
People ask me what it was like there – it was so peaceful and I loved every minute of it. Worshiping in the chapel with the sisters felt like heaven on earth with the beautiful singing, and the sisters were all such a joy to be around. (If you want to hear their singing, just look up one of their albums, you won't regret it!)
I stayed with the sisters for a year and a half. I was accepted into their novitiate, received the habit, and received the new name of Sr. John Margaret after St. John Bosco and his mother, Margaret.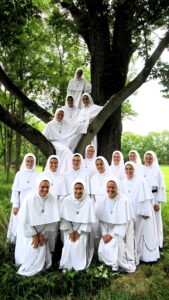 When you enter any religious community, you are entering with the intention to be there for life. That being said, it is normal for any sister to become restless and to question whether God is calling you to stay with the community. These feelings are normal, but there comes a point during your discernment that it may become clear that God is asking you to step back and return "to the world". This is what happened in my own life. Through many discussions with the Sisters who were assisting in my discernment as well as through personal prayer, I knew that God was calling me to leave. And as soon as I made that decision 
I was overwhelmed with so much peace that I knew that I was doing the right thing.
On February 3rd, 2014, I returned home not knowing what was in store for the rest of my life. I don't regret going, and I don't regret my time there. God gave me so many things in my short time there that helped me become who I am today and I wouldn't change that.