A question I get asked a lot of the time is how to create a wedding mass program that is informative, but not overwhelming. I wanted to share my top tips for creating your wedding program, what all should be included, and how to print them. The example I will be showing is from my own wedding, but feel free to change and adapt to your own needs for your wedding!
What Program Do I design my wedding program on?
To design your program, you can use a word document, or you can go to Canva.com for a more advanced design. You can also opt to use a service such as VistaPrint, but this also will increase your cost.  Keep in mind when designing that printing in black and white tends to be cheaper, so if you are trying to save your budget for other areas, you can opt for a totally black and white program. Keep in mind that the main function of this is to aid your guests in participating in the Liturgy.
Where can I print my wedding program?
If you are totally DYIng your program, and want to keep your costs down, you can often go to an office supply store to get your programs printed. The store might also have different types of paper that you can use. The cost will depend on what paper you use as well as whether you are printing in color or in black and white.
What Information Should I Include in My Wedding Mass Program?
Your wedding program for your Catholic Mass should include information in it to aide your guests in worship with you. Chances are, not all your guests are Catholic so having this will help them to understand what is going on during your mass!
The first page is super basic; you may choose to put a picture of you on it, or you may choose to just list your names. You will want to list the date of your marriage, the time that your wedding mass will begin, and the name of the church which you are getting married in.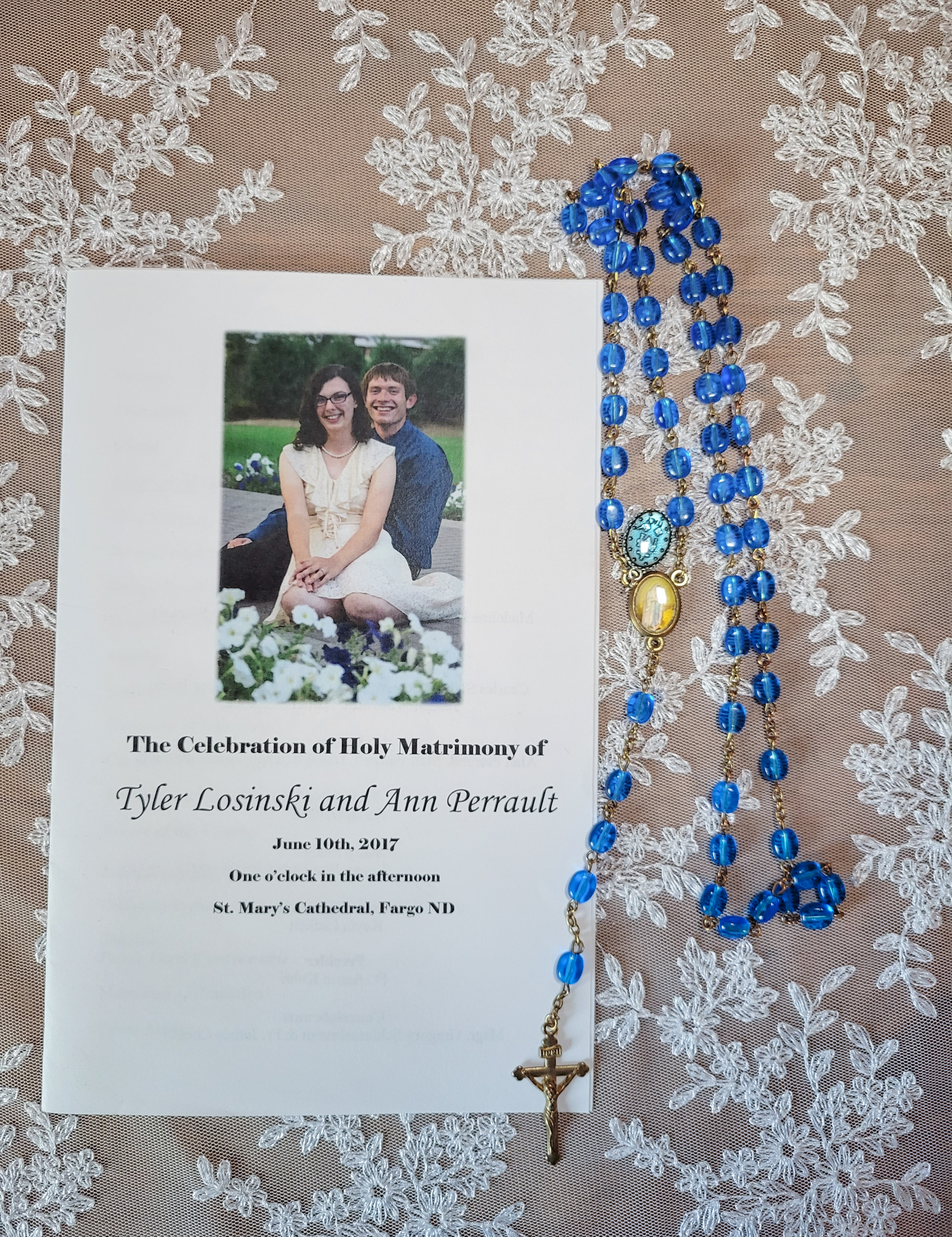 On the next page, it is traditional to list the names of important people in your day; parents, attendants, and celebrants. You will want to list the following with names: the Parents of the Bride, Parents of the Groom, Maid Of Honor, Best Man, Bridesmaids, Groomsmen, Ushers, Flower Girl/Ring Barer, Personal Attendant, and any Priests that will be presiding during your mass.
On the next page, begin to list the order of the mass:
Prelude
Procession
Gloria
First Reading
Responsorial Psalm
Second Reading
Gospel
Homily
Right of Marriage
Statement of Intentions
Consent and Exchange of Vows
Blessing and Exchange of Rings
Prayers of the Faithful
Offertory Hymn
Sanctus
Memorial Acclamation
Great Amen
The Lord's Prayer
Nuptial Blessing
Sign of Peace
Lamb of God
Communion Hymn
Final Blessing
Recessional
Feel free to shorten down the list and combine items as you would like to save space. It is a good idea to list the songs you are using and the reading citations in your program as well.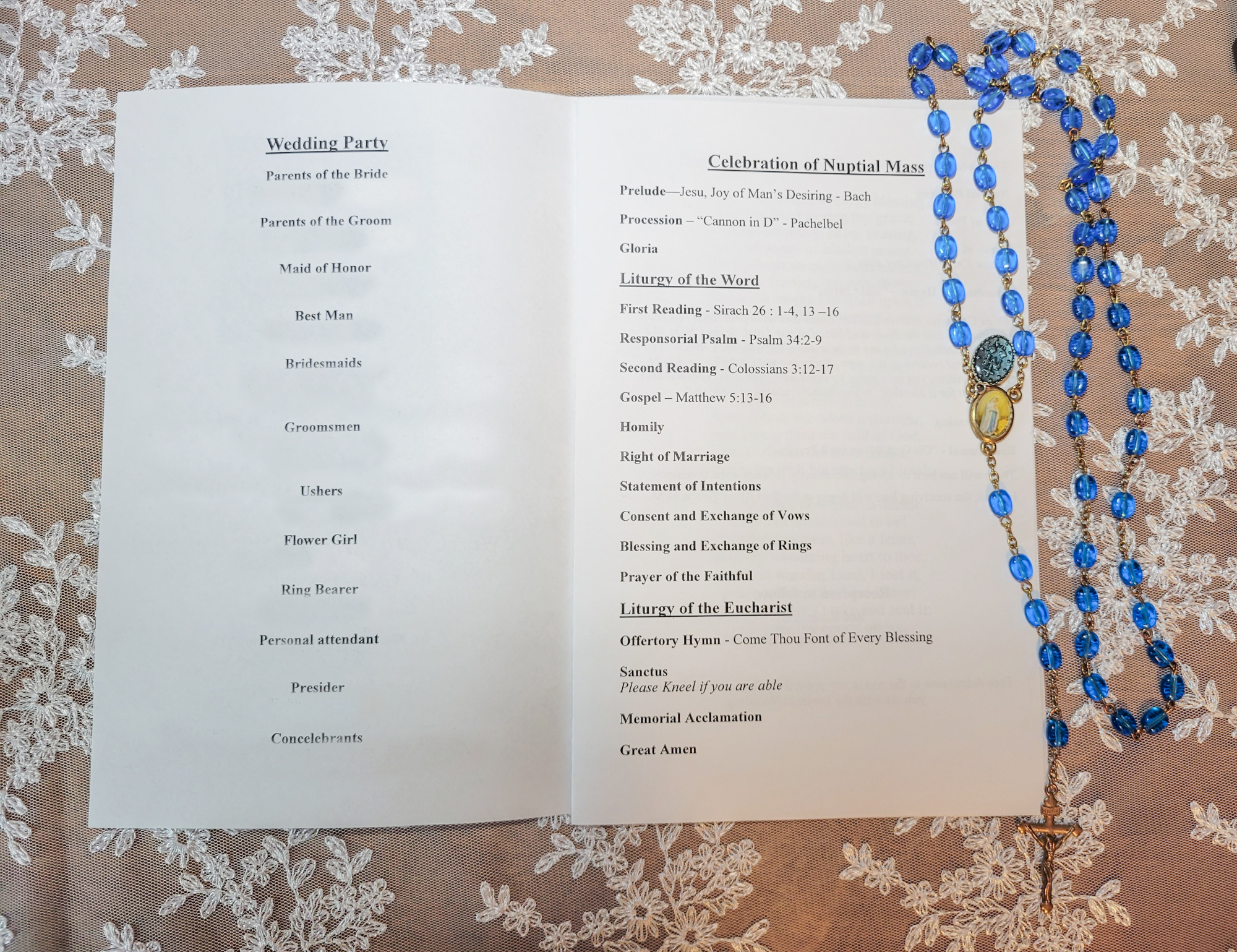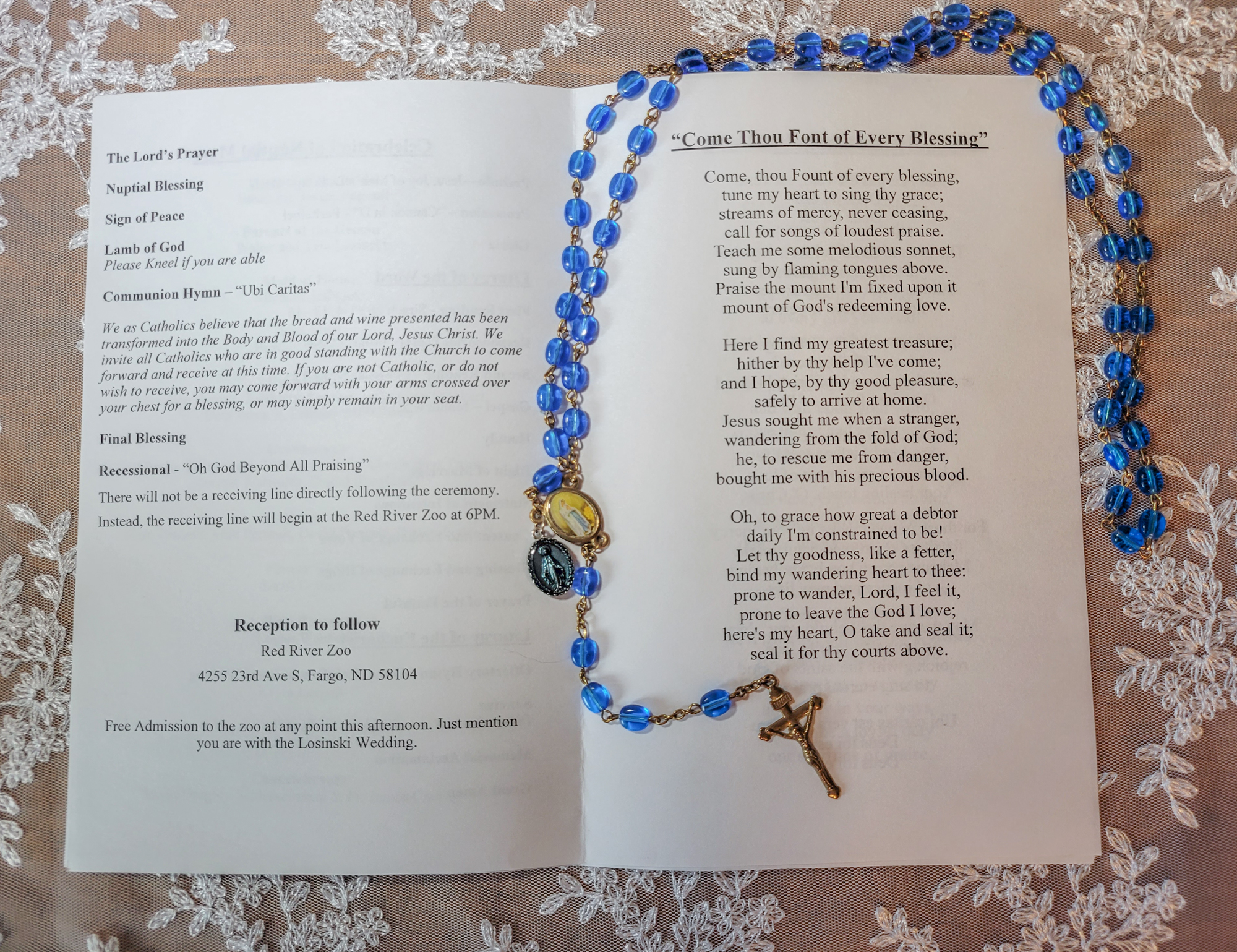 How do I explain what happens at Communion?
If you are expecting non-Catholic guests at your wedding, it is a good idea to touch base with your priest at your rehearsal and ask him if he typically makes any sort of announcement in regards to communion. Many priests already plan to let people know about communion and who should receive. It is a good idea to include a short note in your program explaining as well so that there isn't any confusion. You may use the below text, or may write something similar in your own words:
"We as Catholics believe that the bread and wine presented has been transformed into the Body and Blood of our Lord, Jesus Christ. We invite all Catholics who are in good standing with the Church to come forward and receive at this time. If you are not Catholic or do not wish to receive, you may come forward with your arms crossed over your chest for a blessing, or may simply remain in your seat." 
Final Things To Add To Your Program
At the end of your outline of the mass, you will want to put in reception details so that people have a reminder of where your reception will be held. Put in any other details that are necessary such as whether you will be having a receiving line, what time the reception starts, etc. You may also choose to add a short note of gratitude as well to your guests.
Although not necessary, we wanted to encourage full participation in our mass, so we included the lyrics to the congregational songs in our program as well. Totally optional, but a nice addition if you want to encourage people to sing along with you! We made this choice because we weren't sure what the number of the song would be, and we wanted to make it as easy as possible for our guests!
I hope this gave you a little more insight in what to include in your program. May God bless you as you draw near to your wedding day!