Choosing a wedding photographer can seem like an overwhelming task. I wanted to outline my top five tips for choosing your wedding photographer in hopes that it might help you out in narrowing down some of your choices.
1.) Ask your friends about their experience.
If you have friends who have already gotten married, ask them about who they used and what their experience was with their wedding photographer. Was their experience positive? What made it a good/bad experience? Did their photographer make them feel comfortable and confident? Asking people you know and trust can help a lot with narrowing down options for you to choose from.
2.) Determine What Style of Photography you like and look at portfolios.
There are so many different styles of photography – dark and moody, light and airy, natural colors, faded coloring, etc. Take some time to determine what style fits you best. You want to take some time to look at different styles and see what you like. Then, take some time to really look at the portfolio of the person you are considering hiring. Their portfolio that is displayed will give you an idea of what your photos might look like. You want to make sure that you like what you see, and would be happy with the images that are displayed as if that is exactly what the photographer would give you for your wedding.
3.) Ask to see more images if needed.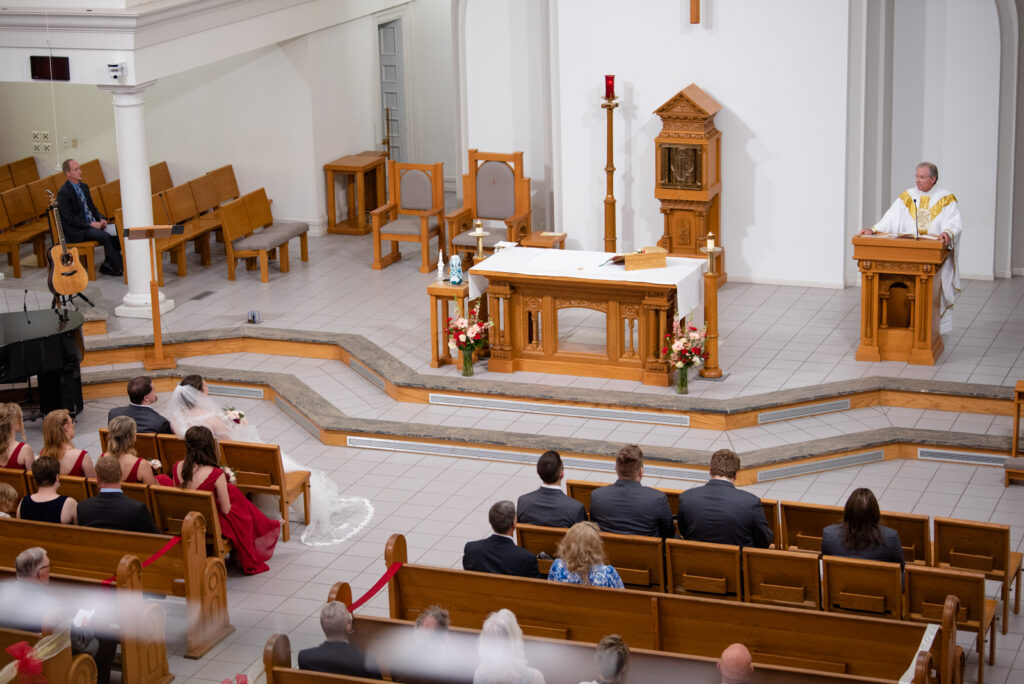 Perhaps you love the light and airy look, but you will be getting married inside a Catholic Church with little natural light. Ask the photographer if they have experience in taking pictures at your specific venue. Even if they don't have images from your exact location, they will most likely be able to provide you with example images from a similar venue.
4.) Take full advantage of meeting/talking to the photographer prior to booking if possible.
Taking the time to get to know your photographer a little bit prior to booking is important for a couple of reasons. Your wedding day is arguably the biggest day of your life, and you want someone by your side that you know you can trust and that will make you feel comfortable. Sometimes, even if their work is gorgeous, you might find after talking with them that your personalities might be too different. This is totally OK! As photographers, we want you to be comfortable and know that we are absolutely the right fit for you, so if you find that the meeting is awkward or uncomfortable for any reason, it is perfectly fine to find another photographer.
5.) Don't be afraid to say no.
If for any reason you don't feel like the photographer is a good fit for you, don't be afraid to say no. Trust me, we want to serve you as best we can, and if we are not a good fit for you for any reason, it is ok to book someone else!
Hopefully these tips will help you in your planning to have a more positive wedding planning experience!
Best wishes to you as you plan your big day!